The Once Thriving Water Transportation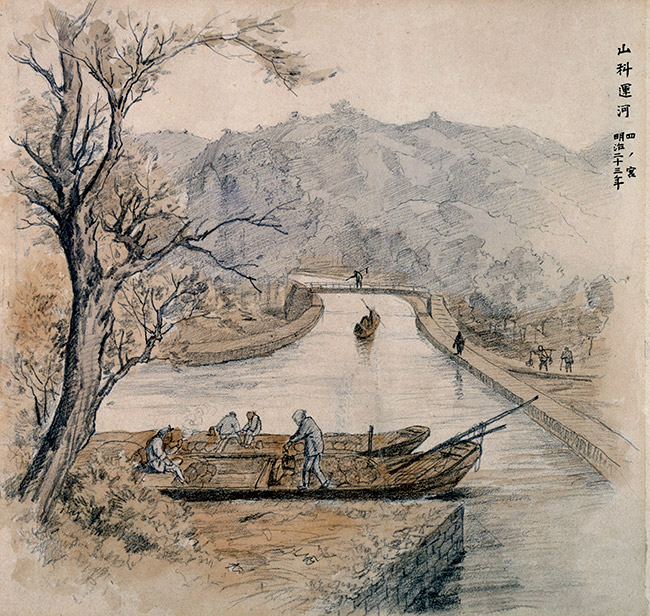 After the excavation in Meiji 23 (1890), transportation by boat began in Lake Biwa Canal, and the canal was used to transport passengers and cargo for several decades; at its peak transporting 300,000 passengers on passenger boats in Meiji 28 (1895) and 22,000 tonnes of raw materials in Taisho 14 (1925). However, with the rapid development of automobiles, railways, etc., the number of boats being used for transportation gradually decreased, and in Showa 26 (1951), a final shipment of 4.5 tonnes of sand from Otsu to Yamashina marked the end of transportation on the canal. There have been numerous appeals to bring back boat transportation on Lake Biwa Canal since then, but they remained unrealized for a long time.
The participation of the mayor of Kyoto City and the mayor of Otsu city in a trial downstream boat ride in December of Heisei 25 (2013) brought attention once again to the significance of the facilities of Lake Biwa Canal which had supported the livelihoods of the people as well as the industries and culture of the city. In December of Heisei 26 (2014), "Lake Biwa Canal Downstream Boat Ride Executive Committee" was established, through which private enterprises, tourist associations of both Kyoto and Otsu, Chamber of Commerce and Industry as well as local governments are able to share ideas to revitalize not only the canal routes but the greater Kyoto and Otsu area. This led to discussions to bring about a full-scale revival of ferries in Lake Biwa Canal.
The distinctive structure and features of Lake Biwa Canal posed many challenges in restoring ferry services. The canal is not suitable for the operation of medium and large-sized ships due to its shallow depth of approximately 1m, its conical cross-section with narrow base, fast flow of water, and a sharp curve caused by the change of the canal route with the completion of Moroha Tunnel. Even for small-sized ships, extremely high level of skill is required to navigate the ship through the canal. There are also restrictions when turning and passing another ship as they can only be done in certain places such as reservoirs.
Please rest assured that the crew of The Lake Biwa Canal Cruise have been sufficiently trained in advance, our service has undergone inspection by the authorities, and we have improved and verified to detail the safety features and procedures for our passengers. Following several years of preparation, in the spring of Heisei 27 (2015), the executive committee implemented a 16-day "Lake Biwa Canal Ferry Revival" trial service, operating a distance of 7.8km between Otsu City, Shiga Prefecture and Keage, Kyoto City, restoring ferry services in Lake Biwa Canal for the first time in 64 years.
Since then, in preparation for full-scale commercialization, the Committee has continued to carry out trial projects in the spring and fall, such as planning tour packages that incorporated training of dedicated guides and canal ferries as well as the "Upstream Service" or the transfer from Otsu from Keage which goes against the flow of the canal. In the fall of Heisei 29 (2017) Lake Biwa Canal Charm Creation Conference was inaugurated, and finally, in the spring of Heisei 30 (2018), full-scale operations began.